On-Page Optimization For Successful Home Based Businesses

---
I told you that optimizing pages for successful home based businesses and the search engines was easy! This is the key to building successful home based businesses through a web site. The next few selections in the template are just different page options that you can add by clicking the "yes" and "no" buttons if you want the page to have the feature or not.
Let us take a look and I will explain each one.

This is just asking if we want the page to be part of our "navbar" or "menu" on the left hand side of the web site. These are the buttons that visitors click to navigate the different areas of the web site. These will be our second tier pages that we have set up from the 10 day lessons. It is always best when setting up your site to do the homepage first and then add all of the second tier pages which will make up your "navbar", so when adding any "second tier" pages we want to select "yes" and in the blank box type in what the navbar will read, such as "Fly Fishing Lessons".
The bottom section asks "put your navbar on this page" and we always leave this as "yes". If any page does not include the navbar then visitors and search engine spiders cannot navigate anywhere else on the web site. That would not create successful home based businesses online.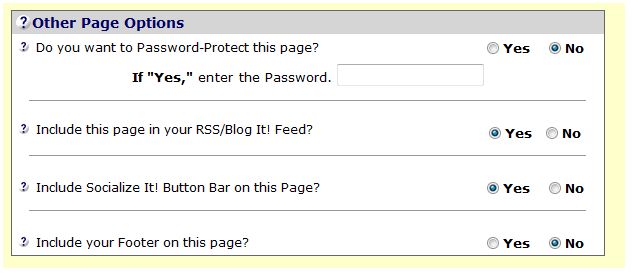 1) Password protection: Most of the time this will be "no", but if you ever do have the need for creating a password protected page then select "yes". When a visitor tries to go to the web address of the page they will be prompted with a box asking for a password. If they do not have the password you created for the page they will be unable to view it.
2) Include this page in your RSS/BlogIt! Feed: always "YES"
3) Include Socialize It! button bar on this page: Always "YES"
4) Include your Footer on this page: if you created a footer when you designed your web site then "YES" you would want to include it on every page. The hosting service I use has an easy tool for creating a footer for your site. I personally do create footers for my web sites and add them to every page but they are not needed or required.
That is all there is to the basic page options when building your page for successful home based businesses online. Solo Build It! makes building Successful Home Based Businesses easy work so click the link and take the full video tour! The next page we will look at the "block by block" building feature for creating the header and adding the content to the body of the page. Again, this is all very simple to do and takes a minute.
Onto the next lesson... Click For Next Lesson
Free Download - The Affiliate Masters Course!

---
Lesson Plan 2-1
Lesson Plan 2-2
Lesson Plan 2-3
Lesson Plan 2-4
Lesson Plan 2-5
Lesson Plan 2-6
Lesson Plan 2-7
Lesson Plan 2-8
Lesson Plan 2-9
Lesson Plan 2-10
Lesson Plan 2-11
Lesson Plan 2-12
Lesson Plan 2-13
Lesson Plan 2-14
Lesson Plan 2-15
Lesson Plan 2-16
Lesson Plan 2-17
Lesson Plan 2-18
Lesson Plan 2-19
Lesson Plan 2-20
Lesson Plan 2-21
Lesson Plan 2-22
Lesson Plan 2-23
Lesson Plan 2-24
Lesson Plan 2-25
Lesson Plan 2-26
Lesson Plan 2-27
Lesson Plan 2-28
Lesson Plan 2-29
Lesson Plan 2-30
Lesson Plan 2-31
Lesson Plan 2-32
Lesson Plan 2-33
Lesson Plan 2-34
Lesson Plan -2-35
Lesson Plan 2-36
Lesson Plan 2-37
Home Getting Started Overview Day 1 Day 2 Day 3 Day 4 Day 5 Day 6 Day 7 Day 8 Day 9 Day 10 Wrap Up Lesson Plan 2 Software Other Businesses Articles & Tips Affiliate Directory Free Stuff Blog Free Newsletter