Home Business Tips - Get Inbound Links!

---
Here are some home business tips now that we realize getting inbound links can really help speed up the process for getting them!
Here is a screen shot of the Arelis link building software: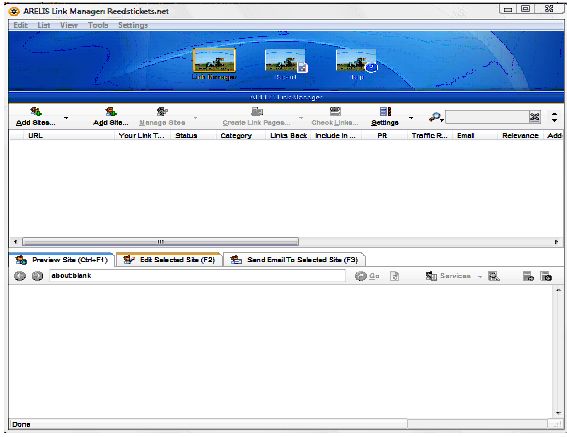 In the current windows there is nothing collected, but after you make your selections and send the program out to gather possible link partners the top window will be full of information. The URL of the site will be to the left and you will work down each one. The other columns will prove useful information such as the PageRank of the web site and allow you to create categories for the site brought back. I really do not use any of the other information in the top window, the main point is that all the web sites the program brought back are listed so you can work down them.
The bottom window has the three tabs which can be clicked on. The first tab is a preview tab which let's you check out the web site and see if it is a good fit. The second tab is one I really do not use, but it let's you take some notes on the web site and so forth. The third tab is the template for sending an email to the potential link partner. Here are some home business tips for a web site, make sure to set up a nice email and try to change the email template each time you email a fellow webmaster. Try to add something in the email specific to their site.
The idea here is very basic, we use the program to go out and search for related web sites so that we can try to get inbound links and then list the web sites into the top window. We then work down each web site in the window and take a look at them. If we come across related site which seems like a good fit we use the "email" tab to send them an email. The software automatically has the email address for the web site you are trying to contact in the template, there is no need to go searching for any contact information. Some other home business tips for the software is to keep a couple templates made and alternate now and then between them.
On the next page I will go through the different ways the software can be used to find link partners. If you want to check out my reviews and purchasing information for the software click the link Home Business Tips Software
Make sure to download and read the Affiliate Masters Course which taught me all I know to make an income online.

---
Lesson Plan 2-1
Lesson Plan 2-2
Lesson Plan 2-3
Lesson Plan 2-4
Lesson Plan 2-5
Lesson Plan 2-6
Lesson Plan 2-7
Lesson Plan 2-8
Lesson Plan 2-9
Lesson Plan 2-10
Lesson Plan 2-11
Lesson Plan 2-12
Lesson Plan 2-13
Lesson Plan 2-14
Lesson Plan 2-15
Lesson Plan 2-16
Lesson Plan 2-17
Lesson Plan 2-18
Lesson Plan 2-19
Lesson Plan 2-20
Lesson Plan 2-21
Lesson Plan 2-22
Lesson Plan 2-23
Lesson Plan 2-24
Lesson Plan 2-25
Lesson Plan 2-26
Lesson Plan 2-27
Lesson Plan 2-28
Lesson Plan 2-29
Lesson Plan 2-30
Lesson Plan 2-31
Lesson Plan 2-32
Lesson Plan 2-33
Lesson Plan 2-34
Lesson Plan -2-35
Lesson Plan 2-36
Lesson Plan 2-37
Home Getting Started Overview Day 1 Day 2 Day 3 Day 4 Day 5 Day 6 Day 7 Day 8 Day 9 Day 10 Wrap Up Lesson Plan 2 Software Other Businesses Articles & Tips Affiliate Directory Free Stuff Blog Free Newsletter