Getting The Links Competitors Have For Top Search Rankings With A Small Home Business

---
Once the email account is set up in the software for our small home business it is onto filling out the email template. Once again select the "email settings" tab in the work space and select "edit email message templates". This brings up a screen with a bunch of "pre made" templates and you can go through them to get an idea of what you want in your emails that will be sent to each site.
I personally create my own personal template in an attempt to locate one way back links rather then a "link exchange". In order to create your own email rather then using a stock one, just click on the "new" tab at the top left of the screen. Create a nice subject for the email and create the letter which you will be sending out for your small home business web site. Save the template and then the program takes you back to the last screen. Locate the template you have just created at the bottom, the template will be named by the subject line you created. Right click on the template and select "rename", then just give the template the name of your web site and hit "ok".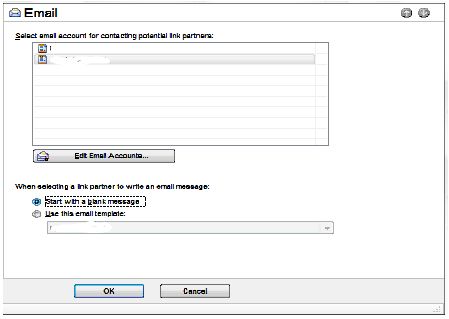 The final step to set up the email template is to go back to "email settings" and select "edit email start template" and select the email account you set up for the site you are working on. Select the "use this template" option and search for the template you created for the email account and web site you are working on. Hit "ok" and you are all done and set up!
Next I will show you how to go through the web sites the software returned and send the email out in hopes of getting those valuable back links our competitors have to score in the top results of the search engines. A sure way to launch a small home business into the stratosphere!
Make sure to check out my reviews and purchase information for the linking strategy software! Small Home Business Linking Software
Make sure to read the best book on the net about starting an online business The FREE Affiliate Masters Course

---
Lesson Plan 2-1
Lesson Plan 2-2
Lesson Plan 2-3
Lesson Plan 2-4
Lesson Plan 2-5
Lesson Plan 2-6
Lesson Plan 2-7
Lesson Plan 2-8
Lesson Plan 2-9
Lesson Plan 2-10
Lesson Plan 2-11
Lesson Plan 2-12
Lesson Plan 2-13
Lesson Plan 2-14
Lesson Plan 2-15
Lesson Plan 2-16
Lesson Plan 2-17
Lesson Plan 2-18
Lesson Plan 2-19
Lesson Plan 2-20
Lesson Plan 2-21
Lesson Plan 2-22
Lesson Plan 2-23
Lesson Plan 2-24
Lesson Plan 2-25
Lesson Plan 2-26
Lesson Plan 2-27
Lesson Plan 2-28
Lesson Plan 2-29
Lesson Plan 2-30
Lesson Plan 2-31
Lesson Plan 2-32
Lesson Plan 2-33
Lesson Plan 2-34
Lesson Plan -2-35
Lesson Plan 2-36
Lesson Plan 2-37
Home Getting Started Overview Day 1 Day 2 Day 3 Day 4 Day 5 Day 6 Day 7 Day 8 Day 9 Day 10 Wrap Up Lesson Plan 2 Software Other Businesses Articles & Tips Affiliate Directory Free Stuff Blog Free Newsletter