Day 9 Continued - Click-In Analysis Examples For A Profitable Home Business

---
There are many different way to experiment with click-in analysis for a profitable home business. An example would be to try creating two tracking links for one campaign. You can try linking each one to different pages of your web site to see which draws more sales from your affiliate links and merchants. You can even create a third tracking link and send visitors directly to your merchants product page. Now you can see which of these three links provide the best conversions in sales and know exactly where to send your visitors to generate the best income.
Another great way for beginner webmasters to experiment with the use if click-in analysis and the use of tracking links to build a profitable home business would be to create a few for their E-zine. This way the beginner webmaster can use the links and see how their loyal customers and visitors react. An example would be to create a tracking link for each of your merchants and then experiment with placing them in the E-zine.
This will let you see what merchant's products your visitors are purchasing. This data tells the webmaster which merchant deserves to strongest presence to make a the best profitable home business. Once you know this information you can go a step further and create tracking links that send visitors directly to the top merchants product pages and tracking links that send visitors to your page that presells their products. Now you can see which converts better for your visitors and where any costly marketing you do should be focused.
---
Using Tracking Links
The use of tracking links in order to gather click-in analysis is an advanced concept but one that the successful webmaster should experiment and feel comfortable with. The best place to begin would be experimenting with your E-zine until the practice become second nature and is understood completely. Make sure the rest of your web site is in order and you have the ability to create content and on-page optimize the content before working with this concept.
One of the disadvantages of tracking links is that the software to run them can be costly. The web hosting service I use for my web sites, includes this in the hosting costs so it costs me nothing. The tracking link software is located in the webmaster tools under "tracking library" which is really a great tool to have for free. Plus the tracking library is available at a click of a button when I am working on my sites. The tracking links are set up in a minute and the data will be available at the click of the mouse. Making even the beginner webmaster a pro in a matter of minutes, not months or years. This is sure to have you a profitable home business up and running in ten days with all the tools a webmaster could ever need or want.
You can check out the hosting service I use for my web sites here Profitable Home Business Tracking Tools!
Here is a screen shot of what the "Tracker Library" looks like when you click on the button within your site tools: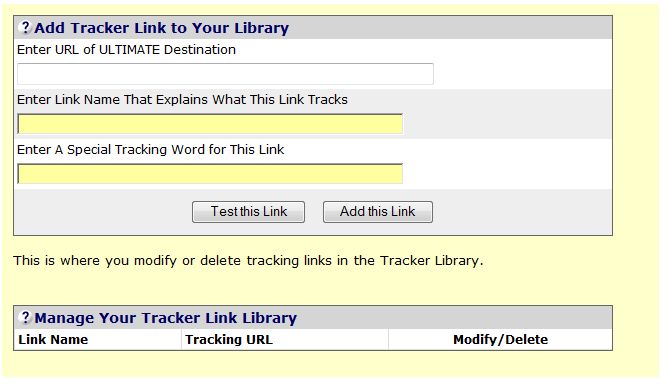 See how easy setting up tracking links is with this amazing tool? The best part is that it is free just for hosting your web site!
Time to look at "Click-Through" analysis... Click For Next Lesson
Download your FREE copy of the Affiliate Masters Course which teaches everything needed to make a living from home using a web site!

---
Day 9-1
Day 9-2
Day 9-3
Day 9-4
Day 9-5
Day 9-6
Day 9-7
Day 9-8
Home
Getting Started
Overview
Day 1
Day 2
Day 3
Day 4
Day 5
Day 6
Day 7
Day 8
Day 9
Day 10
Wrap Up
Lesson Plan 2
Software
Other Businesses
Articles & Tips
Affiliate Directory
Free Stuff
Blog
Free Newsletter
Time to look at "Click-Through" analysis....