Day 9 Continued - Analyzing Traffic For A Home Internet Based Business Opportunity

---
The previous page has showed us the basic stats we want to monitor to make sure we are on top of our home Internet based business opportunity. These are the methods in which we assure our traffic is growing in good health. How we analyze these results is simple as well.
Daily statistics will give us a day to day break down for our visits, visitors and page views. When running promotions it is a good idea to look for fluctuations in the daily stats to make sure your efforts are becoming fruitful.
Most popular pages are probably my favorite statistic to keep an eye on. By the name you should be able to see why, knowing that you have created a page of content that is attracting surfers means you will want to experiment with different income models to maximize profits. This statistic keeps us knowing what the market demographic we are covering wants and how to "tweak" our pages for the best conversions. The popular pages of our home Internet based business opportunity will also let us know what type of content we need to continue adding to the site.
Entry pages are an important factor to track as well. These are the most popular pages in which people enter our web site. At first this will likely be our homepage, but over time other pages may become leaders for entry pages of visitors. Understanding where these visitors are finding the entry page can give a wealth of knowledge to a webmaster. If the pages are being accessed by keywords in the search or other referrals is something we want to monitor so we can continue to build content which our market desires.
Exit pages are a tell tale sign of your sites health. Just because a page has high numbers does not necessarily mean it is bad. You must look at all the data to come to a conclusion. If this is your best entry page as well then there is a reason for the page having a large number of exits. If the exit page is also one of your main sales pages to get visitors to move off your site and purchase from your merchants and affiliates then this is not a bad number at all. We must move visitors from our pages to our affiliates, so if your main pages for preselling your merchants are your highest exit pages you are doing your job. You must look at entry and exit pages in context with your web site.
Monitoring the referral URL's is always a fun statistic to look at for a home Internet business opportunity online. This tool will show where exactly all your traffic is coming from. The exact numbers coming from each search engine as well as from the links you have placed in directories and so forth. The keyword search will let a webmaster know what the most popular keywords surfers are using to find your web site from the search engines.
Looking at your referrals and then what keywords visitors are typing into the search will give the webmaster a strong blueprint for the future of their home Internet based business opportunity and keep the webmaster on the right side of the market. The educated webmaster can look for strong ideas and concepts to build more traffic and create new profitable content ideas.
Monitoring our site traffic is very easy to do and once one becomes familiar with what they are looking for, a glance is all it will take once a month.
The web hosting I use includes these traffic monitoring tools with the basic hosting of a web site at no extra costs. What I like about Solo Build It! traffic monitoring tools is that they give you exactly what you need and want without giving to much information. I suggest you take a look at the tools you will have at your disposal here: The Best Traffic Monitoring Tools For A Home Internet Based Business Opportunity!
Here is a screen shot of what you will be looking at each month for your home Internet based business opportunity so you can become familiar with all we have talked about.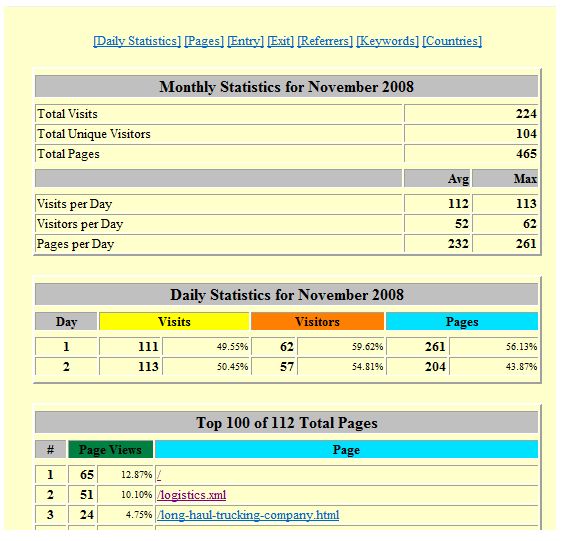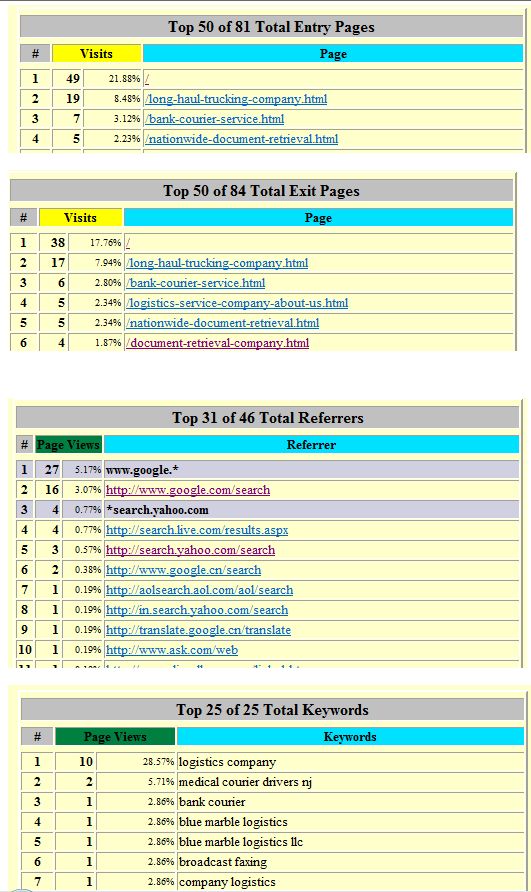 Now let us look at some more concepts. Click For The Next Lesson

---
Day 9-1
Day 9-2
Day 9-3
Day 9-4
Day 9-5
Day 9-6
Day 9-7
Day 9-8
Home
Getting Started
Day 1
Day 2
Day 3
Day 4
Day 5
Day 6
Day 7
Day 8
Day 9
Day 10
Wrap Up
Lesson Plan 2
Software
Other Businesses
Articles & Tips
Affiliate Directory
Free Stuff
Blog
Free Newsletter