Day 8 Continued - Growing Successful Home Businesses Through An Ezine

---
I have said before how many Internet marketers grow successful home businesses through the creed "the money is in the list" and of course when you grow a large list of visitors who want you to email them about your site the conversions really go up. In this tutorial we are going to use the model of an Ezine to help build and grow our list and keep a great relationship with our visitors.
With my web hosting the Ezine is already built into my web site, you just set it up in a little time of one day and then whenever you want to send out an emailing you just add your newsletter into the template and click a button. You can check out the Ezine tool and many others by clicking the link Successful Home Businesses Tools! The Ezine will be sent to every email that has signed up to be on your opt-in list. My host also gives the opportunity to put a sign up box on any pages you feel fit.
This opt-in list builder looks like this: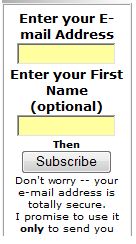 This can be on the menu side of all your pages and then visitors can easily join your Ezine and you will gather their emails day after day so when you send out a newsletter everyone who signed up will receive it automatically. All you do is write the newsletter and place it in the template, with a click of a button it is sent out to everyone in your list. This is all automatic and you just check a little box when you build a page if you want the Ezine opt-in box shown above on the page. This is a great way to build a list without any work and once again you will be ahead of most people trying to build successful home businesses online.
A great Ezine will keep your visitors notified of new content added to your site, new products being offered by your merchants and affiliates and a great way to keep them informed of any announcements in your theme or topic. It really is amazing how easy it is to use these marketing tools and the results that they will bring, plus they are all handles automatically and can be set up in less then a day, more like an hour!
We want to use our Ezine to keep "Preselling" our visitors but at the same time we want to make sure our newsletter continues to deliver the great content that they came looking for in the first place. This is what builds successful home businesses through the use of a web site and will make the most income with none of the work. We are just making sure we get the most out of every visitor who comes to our site.
On the next page will look a little deeper into this concept. Click For Next Lesson
Make sure to grab a FREE copy of the Affiliate Masters Course Book!

---
Day 8-1
Day 8-2
Day 8-3
Day 8-4
Day 8-5
Day 8-6
Day 8-7
Home
Getting Started
Overview
Day 1
Day 2
Day 3
Day 4
Day 5
Day 6
Day 7
Day 8
Day 9
Day 10
Wrap Up
Lesson Plan 2
Software
Other Businesses
Articles & Tips
Affiliate Directory
Free Stuff
Blog
Free Newsletter