Day 8 Continued - Start A Home Business and Know Your Visitors

---
Now we will go over in a bit of detail how to keep in touch with your visitors when you start a home business using a web site. The main goal of this day is to utilize some different methods such as an Ezine and site blog to keep your visitors interested in the site. By building a relationship and keeping in touch with the visitors we build trust and credibility which adds to our ability of keeping them warm and wanting to purchase from our merchants and affiliates.
By creating an opportunity for a second response with our visitors we increase the chances to land a sale and also land repeated sales over time. When we start a home business we always want to ability to keep in touch with as many visitors as possible. If they are willing to sign up to be notified of changes with our site and new products then the percentage goes up for a sale.
---
The Use Of A Site-Blog For Building Relationships
Blogging has taken the world by storm over the last couple years and it seems everyone is blogging away these days. Using this new tool for Internet marketing can be one way to keep a relationship with our visitors as well as build credibility with the search engines. The disadvantage of blogging is that it can be time consuming and many businesses do not employ this method for that reason. Still, blogging can be used to our advantage when we start a home business. Since your visitors are coming to your site because they love your content it only makes sense to make your content more accessible so long as it does not require learning new technology or having to write more content.
With the web hosting I use they have a "BlogIt" feature which makes this once again an easy mountain to climb. All you have to do is click a button and you will have a full site-blog on your site which is distributing your content through means of blogging. Your web site content will reach a new medium of web surfers and you will not have to add any new content or learn a new technology for your marketing efforts.
Here is a look at this powerful blogging tool that instantly puts a site-blog on your site and used the content of your site to create it: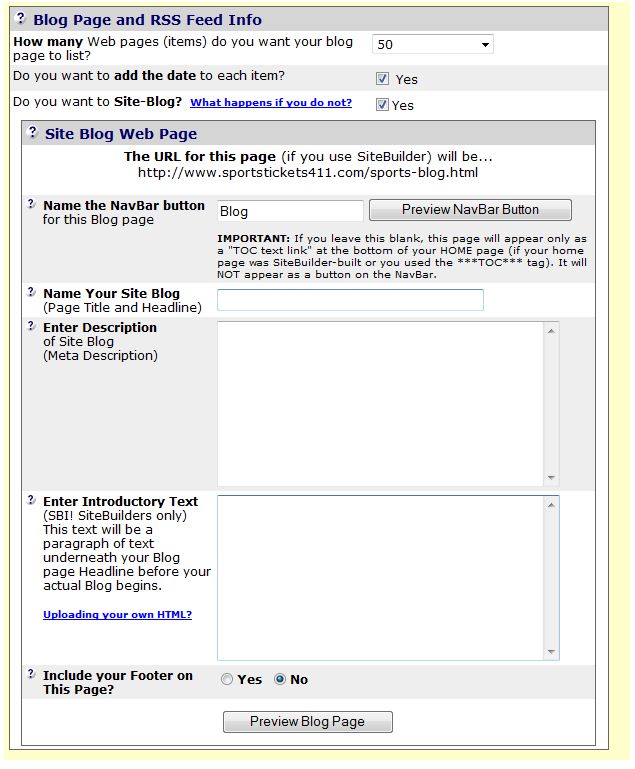 This tool also uses the power of an RSS feed to keep your site content being distributed throughout the web (more on RSS or Real Simple Syndication on the next page) The basic premise here is that with a site-blog we can let our already developed content reach a new medium for our marketing and with the RSS feature we have a means to distribute the content and our web site to the Internet. All of this is done with a little set up and a couple clicks of a button and we never have to deal with it again! The hosting software will keep our content always in our site-blog and will use the power of RSS to distribute our new pages when ever we publish them for the search engines. This is a sure fire way to get the most bang for the buck when we start a home business and requires absolutely no technical experience or special skills. You will have your site-blog up on your site in minutes and be distributing your content through RSS feeds across the Internet. This is a powerful and easy advantage of the web site hosting service I use which keeps you on top of the Internet marketing world. They always add the latest and best ways to market your web site as soon as new technology hits the web, so you are always one step ahead of competition. You can check out all the tools such as BlogIt! and RSS in greater detail here Start A Home Business Resources
Now let us look a bit deeper into RSS feeds and how they will help our sites... Click Here For Next Lesson

---
Day 8-1
Day 8-2
Day 8-3
Day 8-4
Day 8-5
Day 8-6
Day 8-7
Home
Getting Started
Day 1
Day 2
Day 3
Day 4
Day 5
Day 6
Day 7
Day 8
Day 9
Day 10
Wrap Up
Lesson Plan 2
Software
Other Businesses
Articles & Tips
Affiliate Directory
Free Stuff
Blog
Free Newsletter